Las Vegas Nevada, USA ~ February 20, 1999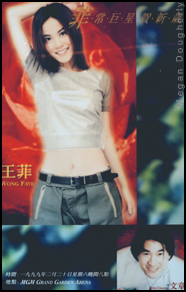 This was the advertisement poster in the MGM for Faye and WC. I think this is a nice poster!
Note - Feel free to use these pictures on your site, but add a link back here and do not remove my name from the bottom! I've taken a lot of time to scan these for you guys and fix the colors etc..etc. I know you are all anxious to see the casino pictures, but I've decided since Faye didn't want us to take pictures of her there anyway, I would only put up 2 pictures from there, to protect Faye's privacy. She gets chased enough by the HK media, and I'm sure she didn't expect it in the USA. Also I'll try to change around the pics here every few weeks. Please wait on this page to load! If when the page is finished loading, some pics still don't show up, just hit refresh on your browser. The pics are there, but I've been told by some people that they don't show up all the time.
Announcements
When I first read that Faye may hold a concert in the US (on the Fayenatics ML) I was almost stunned.. Partly because a) Faye would be on the same continent as me for the first time since I've known about her and b) I would more than lkiely be able to go see her live, in person, in concert.. A million thoughts ran through my head, and remember, this is just when I heard she may be coming hahaha. A few weeks later I read that Faye will be holding a concert in Las Vegas Nevada, USA on Feb 20 and tickets went on sale today. I was ecstatic. I didn't know what to say or think or anything, I was so excited that Faye would even be in my country! For 4 years I've waited for her to come back and now here was my chance.
How
After I read that Faye's concert in LV was confirmed I was ecstatic, and I wasn't sure if I could go yet! Tickets went on sale Jan 8, and that was today..How was I going to convince my parents to let me fly to the other side of the country and get tickets to see Faye; all in under a hour and a half? Luckily I have very understanding parents. I told my mom first and she said alright and even agreed to the $150 tickets! Now I had to ask my dad, and that was a bit harder but he finally agreed also.He likes Faye, but not as much as my mom and I, so it was just her and I going. So my mom and I decided we would go together. So we called and ordered the tickets, however we don't know where we're sitting because the computer picked the best seat available. After all of this I still don't think it all sunk into my head yet. I was **very** happy, but I didn't jump up and down or anything, but the whole day I couldn't believe I was finally going to see Faye in a matter of weeks!
Waiting
Well now, with only 5 days to go until I see Faye, I'm extremely anxious. Even though there's rumours she may only sing for a hour or hour and a half this will more than likely be my one chance to ever see Faye live, in front of me. Every time I think about it my heart starts racing! The one person I admire the most, but have never seen in person or in concert, I finally am. And where else is better than Las Vegas? I already know that Saturday the 20th will be a very, very long day, as it always is when I go to a concert that night. But this will be different because not only is Las Vegas 3 hours behind my local time, but I'm looking foward to it a lot because there will be a lot of firsts.. First time meeting Fayenatics, seeing Faye live and going to LV.. hehee..
The Concert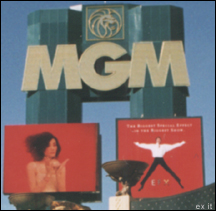 There's a big screen in front of the MGM, and they play advertisements there (see the first picture above). Well from Thursday til Saturday they played an ad for WC and Faye. You can see the pictures they showed above in the second pic. They showed maybe 2-3 more pics of Faye from different HK concerts and MTV's but I didn't take a pic of that because my camera was too slow haha.. I'm glad I got these though!
BEFORE THE CONCERT

All the Fayenatics were scheduled to meet at 3:45 at the Grand Garden Arena.. I left my hotel at about 3:15 and had to walk very fast through 3 hotel lobbies and finally got to the entrance about 3:55.. There was already some Fayenatics there already like Dave, Fong, Hy, Jenny, Thomas and Patrick. We all sat on the floor (there was only 1 bench) and talked, got to know one another and of course about Faye. :)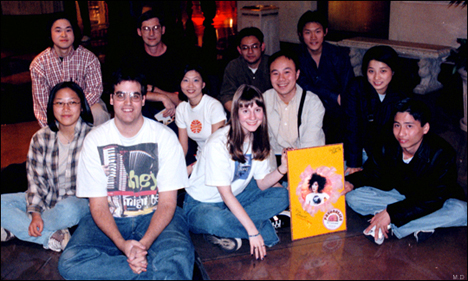 Back row - Chris, Donald, Will and Thomas - Middle Row - Niki, Irene, Patrick and Jenny - Front Row - Dave, Megan (me) and Hy
About 4:15 Paul came. He never said who he was, but I assumed he was Paul, and it turns out that he was. He said that he just saw Faye, but he didn't want to tell us where she was because there was too many of us. Well, when you've flown 5-7 hours on a plane, and spent all this money on a trip and you hear Faye is in the same building as you, you want to know where she is! Finally we all convinced Paul to show us where she was, and he did. So about 5 or 6 of the Fayenatics all followed Paul to the casino. Faye is so beautiful in person! Even though I was about 15 feet away from her she was very pretty in her grey shirt and black sunglasses. Paul said he had already taken a pic and thought Faye may have sent security to check him out. But he told them he wasn't a reporter but a fan and he just wanted a few pics, and security said ok.
We were all standing around this pillar in the casino. We kept going out to see Faye straight on one by one (most of the time).. When I went though I had my camera, so I stayed out there for about 5-8 minutes just watching her play and taking pics. At one point she saw me and looked at me straight on! Everytime I went back to others to say let's leave (most of us were underage to even be in the casino anyway) they would tell me to go take MORE! The only thing I don't like about Faye is that she smokes. And she did it in front of me.. Argh, I was mad at her, I wish she wouldn't do that. A little later we moved over closer to the table where Faye was playing. We were almost on the same line as Faye (no longer in front of her) and she saw us. We waved and said hi in a soft voice and she said hi back and waved. When I tried to take a picture of it she made this little motion like chopping her head off with her hand and mouthed to us "please no more." to which we nodded our heads and obliged. So we just kinda stood there and watched her play BJ. Some Fayenatics went to get autographs and got it. However when Dave and I went we got denied and so I asked the lady next to Faye (it wasn't Ah Foon or Katie, although Katie was there) if we could meet her before the concert and give her some stuff and the lady said "maybe..but not right now."

So we all headed back towards the entrance of the GGA and met Irene. We all told her who we were and introduced ourselves and talked a bit etc..etc.. And I told her that Faye was in the casino and that was where we had been. She wanted me to show her where and help her bring the card and stuff back down to the others. So one our way up to Irene's hotel room we saw Faye. She was getting up to leave and she started walking, so we started walking along with her (but we were on opposite sides hehe)..It was only Irene, Patrick, Will and I so we thought it would be okay. If we had like 7 Fayenatics we wouldn't have done it. It would've been too many people. I think Faye was kinda annoyed with me since I had been following her around for about a hour or so. Finally Faye and Katie and that other lady stopped near the edge of a resturant. (the resturant was behind the BJ tables and all that) The 4 of us were pretty close to the 3 of them and I was leading the way, walking the fastest. Finally Faye and the other 2 stopped. They were talking to some Chinese lady in the resturant. I don't know what they were saying. Irene and Patrick kept telling me to go closer and closer to Faye or call out her name but I told them she was talking and I couldn't cut her off ( I was telling them with hand signals, it was quite a funny site! haha) and then Faye said something and raised her voice a little, which scared me and caused me to jump back! Irene and Patrick were laughing at me, but I didn't want Faye to be angry at me or anything! It was a little apparent Faye was in a bad mood and so I didn't really want bother her anymore. But while I was waiting I was just soaking in how pretty Faye is and that she was right there in front of me. I told the other Fayenatics to look at her shoes, they were little purple slippers with different coloured sequins on the top. She had on a grey shirt with some small slits on each side so you could see some of the side of her stomach, and she also had on purple velvet pants that looked very comfy hehe... And then of course her black sunglasses!
This is Faye in the casino. I wasn't this close to her, when you crop the pic and take the other people out and just get Faye it's this close.. Her hair is so long!

After Faye and Katie and the other lady finished talking they started walking again. They walk so fast! And of course Irene and Patrick were telling me to walk faster and tell Faye to stop for a minute.. Sounds easy but it wasn't for me because I could barely speak! I was about 2-4 feet behind Faye and I was yelling "Faye!!" but my voice was very soft, beause I was nervous, so I shouted a little louder "Faye! Won Faye!" and finally they all stopped! I thought it was because of me, but it wasn't haha.. Turns out Katie wanted to say something, or something like that. I don't think Faye saw me though. So I looked back at Irene and Patrick again haha... What would I have done without you 2? I don't think I would've met Faye without you guys pushing me haha, so thank you! Faye was turned foward a bit, facing towards Katie and the other part of her was turned towards the wall.
I walked up to her, going more around the backside of her so I wouldn't intrude on Katie and Faye talking (although Faye wasn't talking that much) so I went up to her and tapped her on her shoulder and softly said "Faye" and she turned around and smiled a little.. I asked her "Can you sign these for me please?" and she said "okay.." I had 3 things for her to sign: my Fu Zao cover and 2 pics. I handed her my pen and she couldn't take the top off since she was holding the stuff I handed her. So Faye and I were kinda fighting with the pen. Faye was holding the body of the pen and I was trying to take off the lid I think Faye even laughed a little at our attempt! Finally we got the pen where Faye could write with it. I asked her "Can you write it to Megan?" and she said "okay, spell it for me.." and I told her M-e-g-a-n and she said "oh okay," then when she got to the picture (that was for the Fu Zao cover) she told me "sorry, can you spell it again?" So I told her again and when she got to the A she accidently (it looked like) she was about to write a Y, and then I said M-e-g-a and she said "oh, sorry.. okay.." and on the third pic she just signed her name which was fine.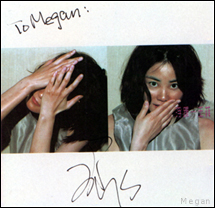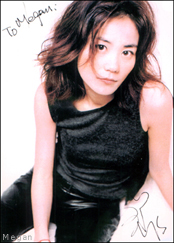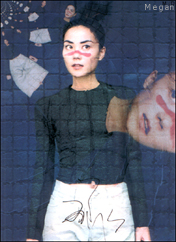 Irene, Patrick and Will were wacthing me.. Irene got out her camera and asked Faye "Faye faye, hor mm hor yee tung ley ying seong?" which meant can I take a picture, and Faye said "mm.. ying." which meant no. damn.. Too bad, I could've had a pic with Faye, but I was very, very ecstatic already! I had always dreamed of meeting Faye, and what I would tell her and what to give her.. But when I did it, I couldn't think of anything to say to her. But I handed her a letter asking her to sing "Bohemian Rhapsody" and thanking her for being herself and connecting all the Fayenatics together. After that Faye started walking again and I said "bye bye Faye" and she said bye bye and waved hehe.. it was cute. :) So then we all went back to the other Fayenatics at the GGA entrance. They probably wondered where we were hahaha.. And only about and hour and half did some of them find out we were with Faye.. They found out eventually though.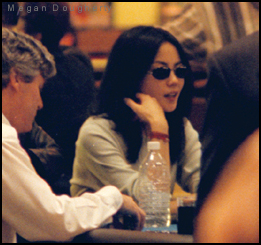 Again I wasn't this close to Faye, but I cropped the picture. She was talking to Katie I think.. Hmm was she talking about us following her? She always has that water bottle with her, it's a big bottle too!

Faye is so tall! I think I only came up to her shoulder, but she is extremely beautiful in person and she didn't even have on any make up! I know I'll never forget that moment, it was so nice and Faye was very sweet although she was tired and a little sick.. And even though I only was with her for maybe a minute or two it's still a very unforgetable memory! She's not at all really like the press says she is. She's very sweet and tolerant; to put up with all these Fayenatics in the US interrupting her BJ game haha!

We talked and signed the volleyball, the card and took pics..Irene and I got the bright idea that maybe we could wrap the volleyball in this glow in the dark string she brought. The stupid string never wanted to stay on the ball and we kept fighting with it! I Think we tried to wrap it around the ball like 3 times, it never stayed on hahaha! It was so funny, finally we gave up! My poor parents,when we went to take the group picture, we all sat on the floor and we gave them all our cameras. I think there were about 8-10 cameras there! But my dad was very nice and took 1-2 pics on everyone's camera hehe.. Paul wasn't in pic though.. too bad.. We could've had 4 non asians in the pic! Then we all talked some more and then only Dave, Jenny, Nicki and Hy and I were left. I'm not too sure how that happned either. But I told them I had to eat so I left them and said I would be back in 15 minutes. I ate so fast, I think I ate in about 5 minutes! I didn't want to miss Faye entering the GGA (although she didn't that way) and I missed the other Fayenatics and wanted to get back to them, beause we had so much FUN laughing and talking! Finally the rest of the Fayentics went to eat and I was going with them but I ran into Donald so I talked to him and his family along wih my mom. I didn't eat with all the Fayenatics hahaha...But when we all got in the arena we all met up again at about 7:20 and talked some more.
THE CONCERT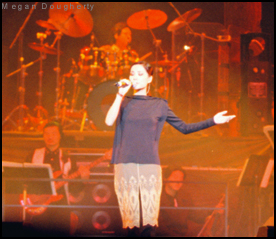 Faye. That outfit she had on was so cool, I really liked it. Her hair was slicked back into a ponytail that stood out. She looks so graceful.
Set List - Bored, Chesspiece, Wishing We Last Forever, Brink of Love and Pain, Elude, Sleepwalk, Love Commandments, Dated, I'm Willing and You're Happy (So I'm Happy).

Dave and I thought we were going to be very close to the stage... Argh but we weren't really close.. we were about 10-15 rows back.. but we were on the floor which was good!! My seats were almost dead centre to the stage so I was happy about that! Dave was in the SECOND ROW BEHIND me hahaha and Thomas was next to him. When we found out where Thomas was sitting Dave and I named him the translator haha.. He didn't argue with us etiher, very nice guy.. Thanks to him for translating for us! And then Jenny and Nicki were supposed to be over to the right more and farther back, but the seats behind Dave and Thomas never filled so we moved them to there, about 6 Fayenatics were all sitting together (kinda) haha.. Anyway we (dave, me, jenny, nicki, thomas) all met before in the aisle in the GGA and were wondering how to get the Vball and card back to Faye. It was given to Dave because everyone thought he was second row from the stage haha. But one of the ushers had been talking to me and my mom and he said since were so nice (or somehing like this, he was kinda annoying so I tuned him out haha) he could get someone to put it in Faye's dressing room. We gave the card and the volleyball to the man who took it backstage and put in her dressing room. He said it was there and she should be there in about 20 minutes..

CONCERT BEGINS

The concert started at about 8:15. Wen Chang came on at first and the lady next to me had her binoculars up the whole time he was on haha.. I really liked the lighting in the whole concert (Faye's and Wen Chang's).. Wen Chang sang "My Heart Will Go On" and "Memories" from Cats... He wasn't that bad but I was kinda tired of him and was very impatient for Faye haha.. Finally at about 9:20 Faye came out.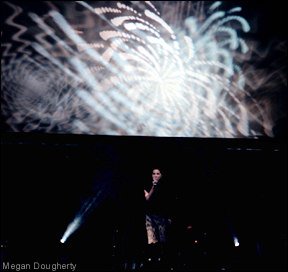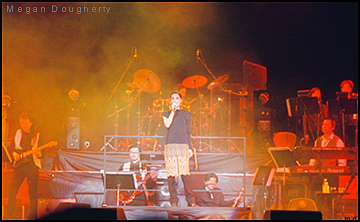 The first pic shows when Faye was first appearing. The second pic is really how far from the stage I was. All the other pics on this page are cropped in a lot so it makes it appear that I was very close to the stage.

There was a big video projection screen and she was on a block behind it, and it raised up and revealed her.. She was so pretty!! It was kinda weird to see her up on stage atfer I had just seen her in the casino 2 hours earlier. She had on a black top with one side sleeveless, black pants and a gold skirt over it.. There was also 2 big screens on the side of the arena which was really nice because they got close ups of Faye. Faye came out and started singing "Bored".. She didn't have her own band, or backup singers, so she sang all by herself, and I liked it a whole lot! When she first came out I thought her voice sounded a bit high but it evened out a little later in the song. She sang this song really good though and it was a good way to start the concert. After this or maybe before, Dave shouted "Faye you rule!!!" really really loudly (he's a big guy so he can yell very LOUD) hahaha. Faye smiled a little.. you know she heard you! I had a notepad and my camera in my lap so I was busy taking pics and writing down the set list.. Actually although it said no camera's on the tickets the MGM people said if you put in a backpack or something you can take it in. So I did and used it.. Also when Faye came out, her earpieces didn't want to cooperate with her. So finally she just let them hang down, and then she would try to put them back on. Finally she got so annoyed with them she just took them off haha..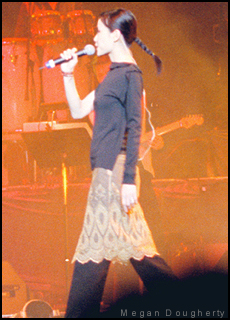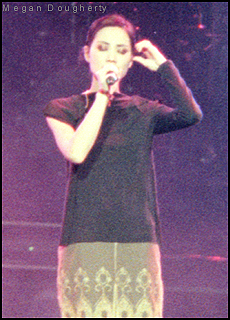 Faye was walking to the left side of the stage.. (pics 1 & 2) are while Faye was singing Bored. Faye waved to the audience.. Pic 3, Faye was trying to fix her earpiece, later in the concert she just took it off.
Also, the way the arena is set up, there were 2 screens on each side of the stage; and they would have close ups of Faye's face singing. Those were so nice!
During every 3 songs or so, different people would bring her flowers (they would come from backstage and give them to her, it wasn't people in the audience) and one time these 2 little kids who were about 3 or 4 gave her some flowers and balloons, and she said thank you and let them hug her. It was so cute to watch, Faye really loves little kids!
Faye did a cute little dance during Elude and Sleepwalk. Elude is the Mandarin version of "Dream Person / Mong Jung Yon". For these 2 songs the projection screen came down and the porcupine came out of the volcano and was bouncing around! That thing is so cool, it flies over trees and through the sky! Faye was doing a little dance, kinda like shaking her shoulders a little and moving her hands out to the side and closer to her and then back out. She also would stand on one foot and kinda twist around and then change feet hahaha, I could've watched her dance like that forever! It was sooo cute!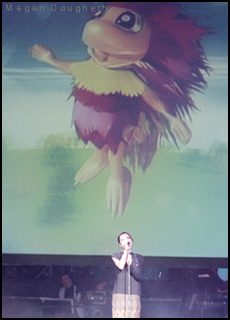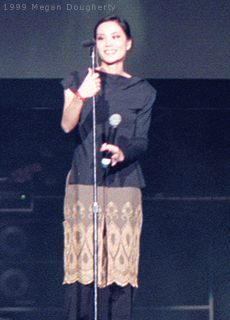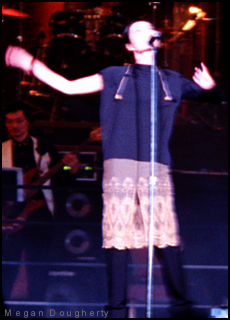 You see that porcupine in the first pic, it was so cute! I really love th second pic! Faye looks so happy! The third pic she was waving her arms and kinda jumping around, I think it's a cool pic though. Do you see those things hanging down? Those were the earpieces she got annoyed with.
During Love Commandments the lighting was very, very cool. I really liked it! It was all different colours and during the middle guitar part it went all white, and Faye looked like an angel coming through the clouds or something like that! I think the background music was taped though, because it didn't sound like it does live (i.e Guangzhou). I'm willing was soooo sooooo sooo amazing! The lighting was all different colors, like the video for it, it had red, blue, purple and yellow lights, they were all really pale though.. It looked so pretty with her in black and all these pale colours around her. She sang this song WONDERFULLY though! I really liked this one!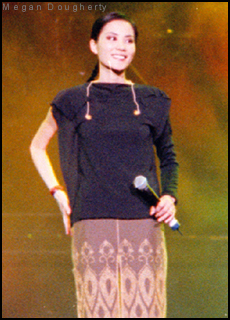 These 2 pics were during "Love Commandments". I love the first pic! Faye's smile is so pretty! The second pic she was doing that little dance again, she raised her foot up again hehe...I love these 2 pictures so much!

Faye only talked 2 times besides saying thank you after every song. After "Bored" she said something.. I'm not sure what it was though it was like thank you for coming etc..etc.. and before YHSIH she said "This is the last song, thank you all for coming, hope you win lots of money!" Then all of a sudden lots of people rushed down to the front of the stage and were trying to take Faye's picture up closer.. I didn't know what she had said until a little later, but when I saw all those people rush up there I didn't know what was happening!

Also while Faye was singing, in between every 2 or 3 songs the lights would dim and she would get some water.. You could still see her but she wasn't as illuminated as before. After she drank, the lights got brighter and you could see her again.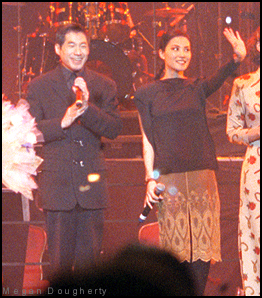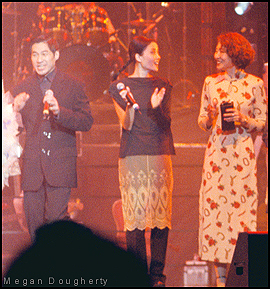 This is Faye and WC at the end of the concert.. The first pic I was so lucky to get Faye clearly, because a lot of people were moving trying to get closer and 2 hands covered up the lady next to faye and the person next to WC haha! I got some pics of the confetti coming down that I'll put up later.

At the end Faye came back out and sang some song with Wen Chang and the people who gave her flowers and things on stage came out and they sang with them. Then all this CONFETTI came down! It was soo pretty to see Faye on stage waving with all this confetti falling on everyone! Faye would wave to everyone in the audience and kinda nod her head and sing and wave. When the confetti came down she started smiling very big! And that was the concert. Actually, what happened before and after the concert was longer than the concert itself!

AFTER THE CONCERT

We all met up again and waited for Irene and hoped to see Faye exit. We waited for like 20 minutes I think and Wen Chang came out. I thought Faye was coming after him so I ran to my dad to change lenses, Jenny thought I was running after Wen Chang hahahahaha!! But Faye never came out. Then someone came and told us about a Chinese resturant so we all RUN to the resturant in the MGM and it said private function or something.. So we all just stood around. The guy from inside there asked us, "why would she come here? out here?" and we said "She was in the casino earlier!" and he was kinda annoyed with us hahaha... Dave said when he got there (MGM) earlier he heard Faye rehearsing and asked if she was in the building and the MGM people said no.. hahahahaha... He was like, then why is she in there singing? So the Fayenatics who hadn't seen Faye at the casino already wanted to wait (and even those who had seen her wanted to wait too) so they all just sat on the floor in front of the restuarant hahaha... At about 11pm I was very tired so I left.

Those hours I spent with the Fayenatics and Faye I'll never forget! You guys are soooo nice, and friendly, I loved talking to you all and watching Faye's concert! I was very surprised by how many people knew me from my website. I really enjoyed talking to you guys also (Amy and Chuck) and thanks for translating a bit for me. Thank you to everyone!
"I must consider myself "blessed for I have heard Faye Wong sing."